TEAM BUILDING AND MILITARY TRAINING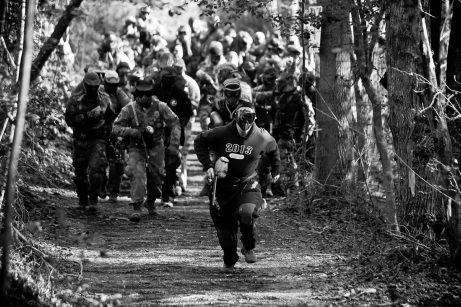 Corporate Teambuilding
Training Courses

The Command Decisions Paintball corporate education series is designed for the business executive, manager, and team member to develop and hone their leadership, team building, and communication skills with methodology that is fresh and entertaining. We are pleased to offer a new developmental education series.
---
Team Building Techniques
Below is merely a template of a package we can put together for your team building experience!

For more information and to have your team building experience custom-created, please call our field store at (828) 495 - 4155
Hours
: Team Building is a seminar course for 4 hours, followed by a practical "field" exercise for an additional 4 hours, for a total of 8 contact hours
Tuition
: $100.00 - per attendee, minimum 10 attendees, no maximum
$ 75.00 - Additional attendees over twenty
(Includes all handouts, books, uniforms, equipment usage, lunch, and limited consumables, such as 1,000 paintballs, and unlimited CO2 gas)
Overview Team Building combines the familiar seminar lecture with a full afternoon practical exercise that will give attendees a chance to put their team work skills to use.
The lecture portion of the course is a training program that provides each attendee the opportunity to learn the true meaning of what a workplace team really is, and what their responsibilities are to its accomplishments. It examines the effective strategies and applicable techniques to move individuals from players of a game to members of a focused team. During this thought-provoking, action packed day, every attendee, from CEO to janitor, manger to staff member, will learn what it means to be a team, and how working cooperatively verses competitively really does lead to greater output with less stress.
Upon completion of the lecture portion, and after a lunch break, attendees will be temporarily inducted into the "Tactical Diversions Army" upon which they will be sent into a simulated hostile environment to accomplish a series of challenging team-oriented problem solving exercises. Realistically created by current and former military professionals, these scenarios are to safely simulate high stress "real world" conditions and field problems, while promoting goal sharing, team ethics and communication.
At the end of the training period, a debriefing will tie in all the lessons learned in the course. Video of the attendees will be shown, and critiques and comments will be facilitated in a feedback session.
Equipment Students will need to wear suitable athletic clothing for the seminar phase. The majority of this seminar will be held outdoors, so proper footwear is a must, preferably hiking or combat boots. Depending on the season, students may want to bring sunscreen and insect repellant.
For the practicum phase in the afternoon, attendees will be provided a uniform (which they will keep after the training program for their own use), load bearing equipment, safety goggles and mask, and an advanced pneumatic marking device (paintball marker). A limited number of paintball rounds will be provided as part of the package. Additional rounds and other consumables will be available should the attendees wish to purchase more.
Sample topics will include:
The true meaning of team


Benefits and drawbacks of teamwork in the workplace


Steps to improve team performance


Attributes that every winning team must possess


What is a team code of ethics


Causes of team conflict, and how to deal with it


Differences between responding and reacting


Dealing with whiners, gripers, and know-it-alls


And many others...


Note: This course will involve some physical exertion, but will not be so physically demanding to preclude involvement by all attendees, including the physically handicapped. Provided attendees meet all safety requirements, there is no physical danger involved in this course, although the impact of a paintball may leave small, temporary bruising. Safety is the overriding concern of the staff, and they reserve the right to halt, without refund, any activity that presents a danger to any attendee.
For further information on this program, or to book your corporate event, please contact us at (828) 495-4155 (field phone) or you may email us.